D'Youville's Campus Cupboard is a campus-wide effort to ensure that no student experiences food insecurity.
Food insecurity is when someone has limited or uncertain access to nutritionally adequate and safe foods. The Campus Cupboard offers a variety of non-perishable, frozen, and fresh foods, as well as personal care items so that no student in the D'Youville community goes without the items they need.
Image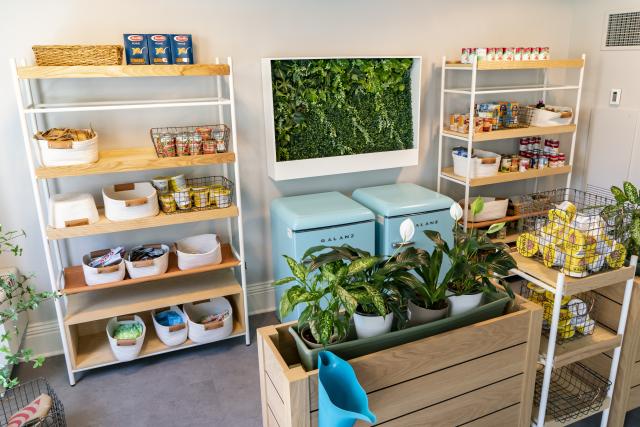 Located in Koessler Administration Building (KAB) 308, the Campus Cupboard is open to all students.
Assistance
Campus Cupboard is here to help through a "grab and go" service that is available to ALL students: no questions asked and no financial proof or paperwork required.
If you or someone you know is in need of food assistance but is uncomfortable seeking help through the Campus Cupboard, you may contact the Wellness Lodge to arrange for more discrete assistance.
Snap Eligibility
Did you know that you could be eligible for SNAP benefits? Students are eligible for SNAP if they:
Work at least 20 hours/ week
Participate in a state or federal work study program
Take care of a child under 6 years old
Are a single parent who takes care of a child under 12 years old
Take care of a child between 6-12 years old and do not have adequate child care to enable them to attend school, and work a minimum of 20 hours/ week or take part in a state/ federal work study program
Get public assistance benefits under a Title IV-A program of the Social Security Act
You can apply for SNAP online or you can call Food For All at 716-882-7705 for assistance with your SNAP application or to check your eligibility.
Donate
Campus Cupboard accepts all donations of non-expired food items and personal care items, as well as monetary donations. Donations can be brought to the Campus Cupboard (KAB 308)
Suggested Items to Donate
Tuna
Pasta
Rice
Fresh fruits/vegetables
Frozen foods
Granola bars
Canned Sauce
Canned Soups
Crackers
Peanut butter
Laundry detergent
Feminine Care Items
Shampoo/conditioner
Body wash
Toilet paper
School stationery
Cereal
About Food Insecurity
Over 12% of the U.S. population (15.6 million people) were food insecure in 2016, and students in WNY are more than twice as likely to be food insecure than the national average.
According to the Feeding America organization, a network of emergency food shortage agencies, nearly one third of those they serve had to choose between paying for food and covering educational expenses in 2014. And that need extends to our campus.
Wellness Lodge
Contact:
Noelle Flynt, LCSW
Paige Schultze, CMHC
Email:
wellnesslodge@dyc.edu
Address:

Koessler Administrative Building
Third Floor 301
Hours:

Monday - Friday
9 AM - 6 PM