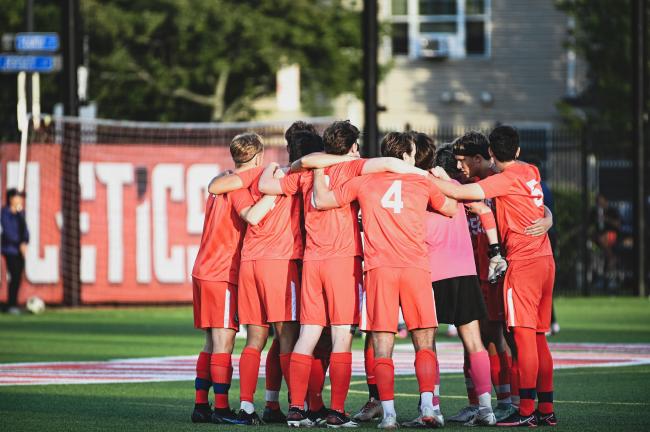 Creating success on the court and in the classroom
Our student-athletes always find academic support and modern facilities to help them succeed. Many teams consistently hold some of the best overall team GPAs in the conference. In 2022, D'Youville University earned the NCAA Presidents' Award for Academic Excellence for achieving an Academic Success Rate of 90% or higher. As one of the 44 NCAA Division II schools to earn the award, D'Youville is one of just three East Coast Conference institutions, along with Mercy and St. Thomas Aquinas, to receive this honor. 
Building leaders with purpose
A founding pillar of DII is community engagement, which speaks to the D'Youville mission of service. Our student-athletes are leaders who engage other students, support teammates, and engage in service throughout Buffalo and beyond. This elevated platform has increased support to our neighbors within Buffalo Public Schools, youth clubs, Team Impact, and Make a Wish Foundation to name a few.  
In 2022, D'Youville was awarded the East Coast Conference Community Engagement Award of Excellence for hosting the Lead Her Forward sport sampling youth clinic. This award is presented annually to the institution that hosts an activity on their campus that embodies the principles of community engagement by building relationships and bridging the gap between campus and community. 
Join the D'Youville Saints!
Are you interested in becoming a D'Youville Saint? We want to hear from you.
Athletic Facilities
Image

Dobson Field (ATH) is the home of the Saints soccer, lacrosse, and softball programs. Located a short walk from campus, Dobson field offers a unique view of downtown Buffalo and Lake Erie.

Image

Located in the College Center the University gymnasium is home to D'Youville's Division II indoor sports teams.

Image

Located in the lower level of the College Center, the recruitment and fitness center features a lounge area and wide variety of cardio equipment and free weights.