Collegiate Science and Technology Entry Program (CSTEP)
CSTEP is a grant funded program sponsored by the New York State Department of Education, established in 1987.
CSTEP promotes academic and professional success and preparation for underrepresented and economically disadvantaged students who are pursuing careers in health-related fields, science, technology, engineering, math (STEM) and licensed professions.
CSTEP supports D'Youville's future nurses, physical therapists, pharmacists, physician assistants and other health scientists by providing preparation, resources and opportunities critical to their success, fostering student's exemplary achievement every step of the way.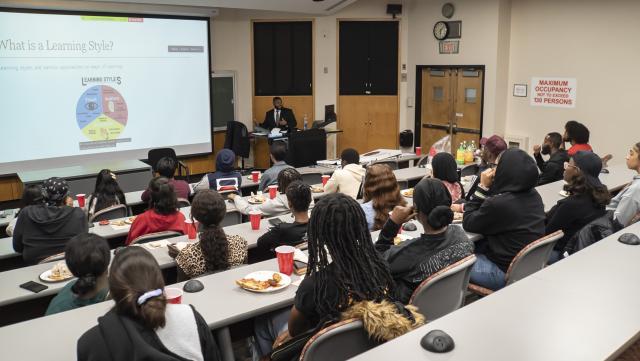 Benefits
Research and Internships
Research helps us better understand and radically reimagine the world while building your academic portfolios. By engaging in research work, students learn hands-on skills that become the foundation of scientific exploration.
CSTEP will help students identify faculty research mentors and internship supervisors. We offer opportunities throughout the academic year and during the summer.
Academic Year Internship
12 weeks
Work up to 10 hours per week.
Engage with a faculty mentor or internship supervisor.
Research stipend provided by CSTEP
CSTEP Summer Research Program
CSTEP offers an 8-week summer research program intended to foster student prowess in preparation for a future health profession career.
Eligibility
WHO CAN PARTICIPATE?

New York State Resident
U.S. Citizen or Permanent Resident
Full-time student (12 credit hours matriculated)
Minimum cumulative GPA of 2.5 GPA.
African-American, Latinx/Hispanic-American, Native American or Alaskan Native, or economically disadvantaged as defined by New York State income guidelines
Pursuing health related profession, career in science, technology, mathematics or licensed profession
WHAT CAN I EXPECT AS A CSTEP STUDENT?

Maintain academic standards (a minimum GPA of 2.5 is required)
Meet with CSTEP staff two times per semester.
Attendance at monthly CSTEP meetings.
Attendance to a minimum of two CSTEP workshops, events or activities each semester.
Participation in an internship and/or research experience (paid or unpaid).
Volunteering
CSTEP Annual Day of Service
CSTEP students visit local high schools in the Buffalo Public School district to meet with students, share their college experience, and introduce students to STEM fields and the licensed professions.
Community Service
CSTEP students spend a Saturday volunteering their time with community organization to build a home for a family in need. Volunteer opportunities are available during the academic year and are a requirement of the Summer Research Program.
CSTEP Shadow Day
CSTEP students serve as mentors to high school students enrolled in the Upward Bound program. Mentors invite Upward Bound students to attend classes with them for a day, allowing students an indication of what college life is like.
Honors & Awards
CSTEP will recognize student's excellence in scholastic achievement and engagement in academic-focused co-curricular and professional activities.