All students have access to 24/7 free and immediate tele-mental health services through SaintsCare powered by TimelyMD.
If you are experiencing a mental health emergency and need someone to talk to immediately, please call one of the following numbers:
Erie County Crisis Services: 716-834-3131
National Suicide Hotline: 1-800-273-8255
D'Youville's on-site counseling center is located on the 3rd floor of the Koessler Administration Building (KAB). The on-site counseling center is located within the Wellness Lodge, and all services are available to students as needed.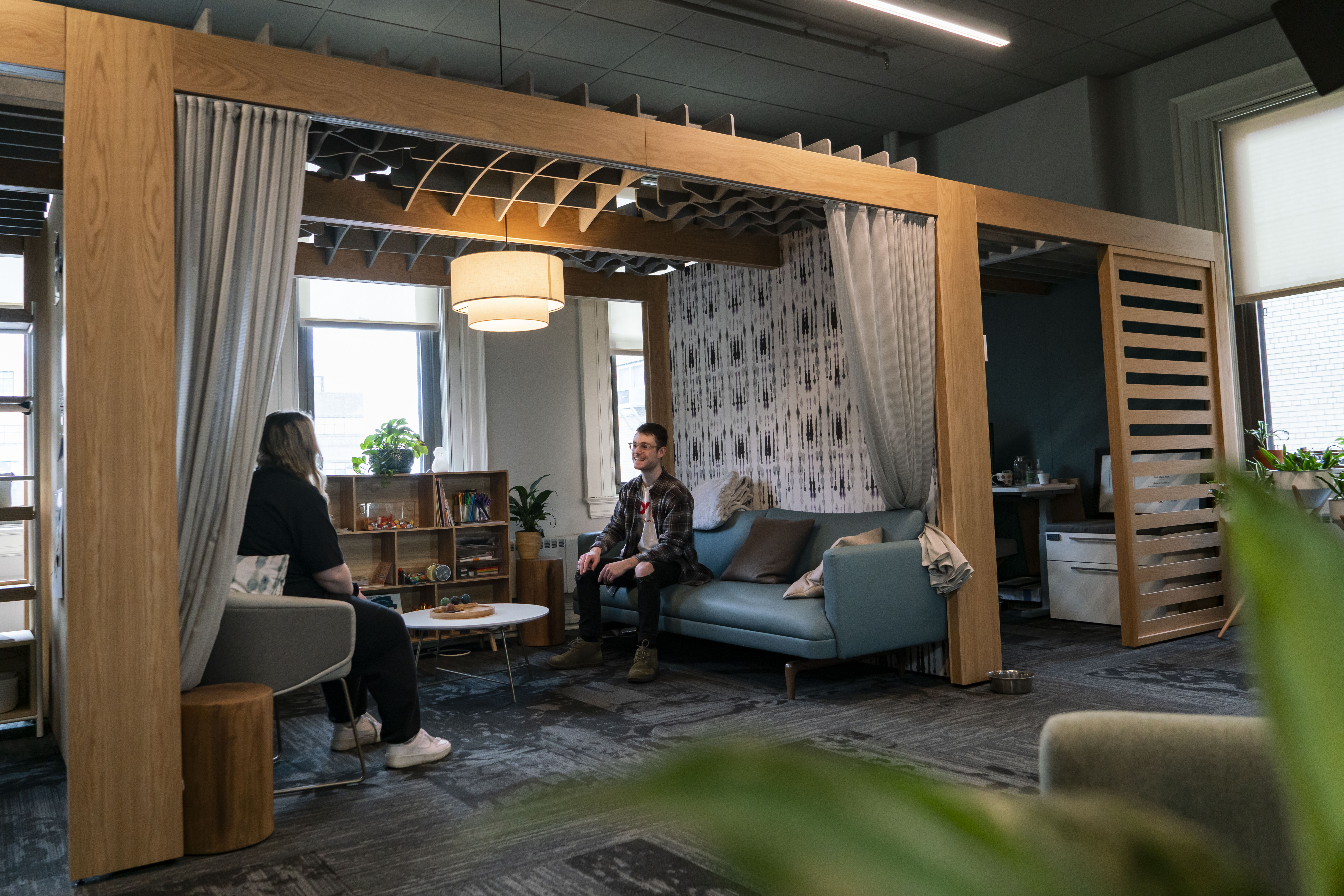 Schedule an Appointment
To start a visit, just go to SaintsCare and register with your .edu email address.
If you are unable to utilize SaintsCare, need an in-person appointment, or would like an evaluation to discuss the best option for you please complete this form.
What to Expect
Please read our Statement of Understanding as it contains important information about our clinical services and policies.
Available Services
There are three no-cost services available to students:
TalkNow: 24/7, on-demand access to a mental health professional to talk about anything at anytime
Scheduled Counseling: scheduled options to speak to a licensed counselor
Health Coaching: access to a nutritional specialist to help you adopt healthier lifestyle behaviors related to sleep issues, weight management and more
Tele-health Options
Talk Now is a part of SaintsCare and is a free and confidential service that will immediately link you to a counselor for a tele-counseling session.
SaintsCare provides D'Youville students and employees access to free, 24/7/365 mental tele-health care from anywhere in the United States. Whether you're feeling anxious or overwhelmed, you can talk to a licensed provider from your smartphone or any web-enabled device.
Custom Campus Workshops
The personal counseling center can customize each workshop to fit student needs and time allotment. If you are interested in scheduling a workshop please contact the personal counseling center directly at wellnesslodge@dyc.edu 
Emergency Resources
On-campus Resources
For mental health emergencies during regular business hours please contact D'Youville Campus Safety at (716) 829-7777
For mental health emergencies after-hours or on weekends please contact D'Youville Campus Safety at (716) 829-7777 if you are on campus or Erie County Crisis Services at (716) 834-3131
Other Emergency Resources
Crisis Text Line: Text HOME to 741741 to connect with a crisis counselor 24/7
Erie County Crisis Services: 716-834-3131
NYS Domestic and Sexual Violence 24 Hour Hotline 1-800-942-6906
National Suicide Prevention Lifeline 1-800-273-8255 (TALK)
Veterans Crisis Line 1-800-273-8255 (press 1)
National Sexual Assault Hotline 1-800-656-4673 (HOPE)
For life threatening emergencies, dial 911
On-Site Counseling
Contact:
Noelle Flynt, LMSW
Email:
wellnesslodge@dyc.edu
Address:

Koessler Administrative Building
Third Floor (Wellness Lodge)
Hours:

Monday - Friday from
8:30 AM - 5:30 PM