How to Apply
Please select the correct application for your program.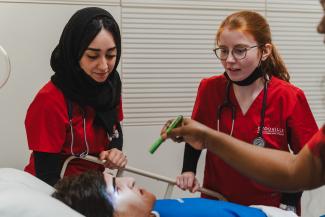 When will you hear?
 D'Youville has a rolling admissions policy. The earlier you apply, the earlier you will be notified of a decision.
Graduate Admission Criteria
D'Youville selects students who are academically well-rounded and committed to meeting the challenges of a high quality education. Students entering D'Youville's graduate programs must meet the following minimum entrance criteria:
Requirements:
You need to have earned a baccalaureate degree from an accredited college or university. The exception is our

pharmacy

 

doctoral program:

Pharmacy: Students who have completed at least 65 credit hours of a bachelors of science degree may apply to the pharmacy program.

Your undergraduate record should be a B average of better in the major field.

If you don't fulfill admission requirements, you may be admitted provisionally.

Applicants whose native language is not English must submit a minimum TOEFL score of 550.
Admission requirements vary for individual graduate and doctoral programs. Please visit the Graduate Programs page to see whether your intended program has any special admissions or application procedures.
Submit Additional Materials
Request an official transcript from all colleges, universities, and graduate schools previously attended.

Nursing program candidates must submit a copy of their license.

Other documents as may be required by specific graduate programs.
Please see Academic program pages for any specific program requirements and lists of pre-requisites, if applicable. 
Accept your Admissions Offer 
If you're accepted to D'Youville University, you'll receive an email and admissions letter outlining any requirements with regard to your decision.
To secure your place at D'Youville, make sure to submit the enrollment deposit online, by mail, over the phone, or in person. Your payment must be postmarked by May 1 (fall applicants) or January 1 (spring applicants). This deposit confirms your place for the next term and is non-refundable after the deposit deadline.
Submit all hard copy documents electronically or via mail:
Graduate Admissions Office
D'Youville University
320 Porter Avenue
Buffalo, NY 14201