Accepted Student Checklist
We are looking forward to you joining our community and taking on new roles as a D'Youville Saint. To stay on track and make sure your first day at D'Youville goes smoothly, make sure to submit your deposit and then use the checklist below to ensure you've checked off all your tasks and are ready to start the semester.
Step 1: Apply For Financial Aid
At D'Youville, we're committed to ensuring our students graduate with a strong financial future. We show that commitment through the high income potential of our graduates and through connecting our students to both D'Youville scholarships and outside scholarships. The first step in the process begins with the FAFSA.
ADD D'YOUVILLE TO YOUR FAFSA

The Free Application for Federal Student Aid (FAFSA) is the form that helps determine your eligibility for financial aid. If you're a student, or parent of a student, you can find full details on our FAFSA resources webpage. You'll receive a notification about your financial aid in your MyDYC account. If you have any questions, please reach out to one of our Financial Aid Counselors.

Suggested Deadline: February 15 for fall admission, November 1 for spring admission
D'Youville FAFSA code: 002712
UNDERGRADUATE NEW YORK RESIDENTS, SUBMIT TAP

Residents the State of New York are eligible for the Tuition Assistance Program. After filing the FAFSA, a pre-printed TAP application will be generated automatically. Full details are available on the D'Youville Grants page.

D'Youville TAP code: 0195
REVIEW YOUR FINANCIAL OFFER

Once we receive your financial forms, we'll review your information and explain your financial aid benefits. You'll get a notification in your email and in your MyDYC account. When you're enrolled at D'Youville, you'll also have access to ScholarshipUniverse, an online tool that automatically matches you to internal, local, and national scholarships throughout your time at D'Youville.

If you have any questions, our Financial Aid Counselors are always happy to speak with you, or you can visit the Success Center located on the second floor of the Koessler Administration Building. Have a question? Email us at solutions@dyc.edu.
Step 2: Complete and Submit Your Immunization Forms
New York State law requires proof of immunization for measles, mumps, rubella, and meningitis before registering for classes. To manage all required immunization records, D'Youville has partnered with CastleBranch to help. Maintain and submit your records online to the CastleBranch website.
Step 3: Submit Your Final Transcripts
Regardless if you're a first-time freshman, transfer student, or graduate student, we'll need official transcripts for our records. Any institution you've attended, whether it is a high school or a previous college, will be able to submit official transcripts to us. To submit transcripts, you'll contact the transcript issuer and have them sent to our admissions office at:
D'Youville Admissions Office
320 Porter Ave
Buffalo, NY 14201
Advanced Placement or International Baccalaureate Exams
If you're taking Advanced Placement (AP) or International Baccalaureate (IB) exams, you'll need to have official scores sent to D'Youville. For more information, view our AP/IB policies.
Transfer Student
If you're a transfer student who is currently enrolled at another college or university, make sure to send your official college transcript(s) prior to final enrollment at D'Youville. New York State residents also need to provide proof of high school graduation for financial aid purposes.
Step 4: Meet Your Academic Advisor and Register for Classes
Our Student Success Center is a one-stop office dedicated to ensuring our students are successful at D'Youville. Once we receive your acceptance information, we'll send an invitation to meet with your academic advisor. As part of your Student Success team, your academic advisor will help you select your classes, assist in transferring credits, and map out your future at D'Youville. This typically happens in April or May for the fall semester and in November for the spring semester.
Step 5: Secure Your Housing
National statistics show that students who live on campus perform better academically and are more engaged on campus. At D'Youville, we encourage students to live on campus and take advantage of our community and our location in Buffalo's West Side neighborhood. 
Housing Deposit
To reserve on-campus housing, you need to submit a housing deposit and meet housing requirements. You can submit the deposit online, by mail, or in person. The Student Engagement Office will contact you with the housing forms, once your housing deposit has been processed. The housing forms, including the application and roommate questionnaire, are also available online, beginning in April.
Housing Deposit (New Students)
SAY YES Housing Deposits
Step 6: Sign up for Orientation
At our orientation events, you'll have the chance to meet fellow students, get answers to your final questions, and learn about the resources here dedicated to helping you succeed. You'll have fun, but you'll also do a lot to make sure you're successful here, so attendance is mandatory. You'll receive an invitation to register in your email. 
Step 7: Prepare for the First Day of Class
You've made it this far into the checklist so you're ready for Day One of your class and your program. Now, review our quick checklist of some practical tasks you can knock-off to make sure you have your digital life in great shape and you're prepared for campus, like securing your ID card and getting a parking pass (if you need one).
The D'Youville First-Years Experience (DFX) is a program designed to help you successfully adjust to college life.
Transitioning from high school to college can be challenging and stressful. D'Youville's First-Year Experience (DFX) gives first-year students the individualized attention they need to adjust to college life and be successful. 
First Year Experience (FYE)
All freshman students are enrolled in FYE 100 during their first semester on campus. These small, interactive classes help students learn more about their transition to college and become connected to the D'Youville community.
Image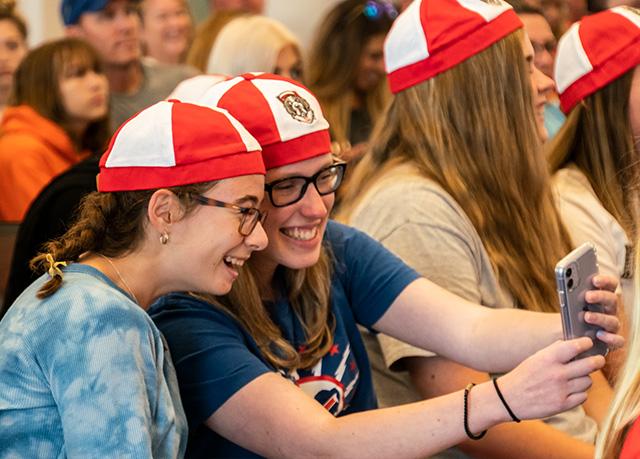 You're part of the D'Youville community now — introduce yourself and connect with current students and the rest of the incoming class today.

Follow D'Youville's own John and Grace through their day to see and learn about all the things going on around campus.