International Student Services
International Student Orientation
Your first days on campus will be packed with fun and important activities. Because the information you'll learn at International Student Orientation is so valuable, it is mandatory for all new incoming international students to attend.
Image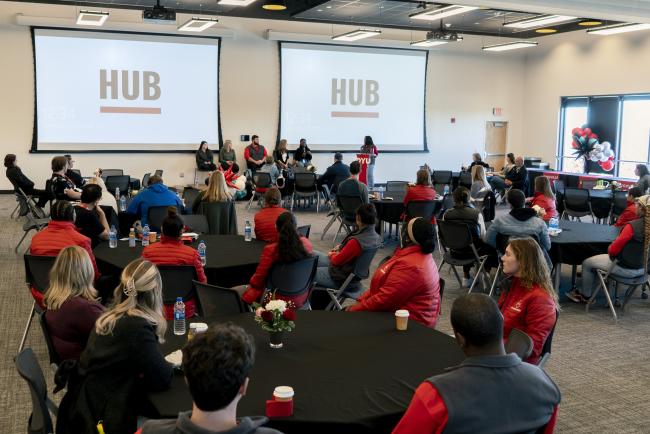 Programs for International Students
Image

Our club hosts campus events, off-campus trips and provides a great way for students to get to know one another. The International Student Club was formed in 2004 to help new international students adjust to D'Youville. Our club promotes diversity and cultural awareness on the D'Youville campus. They also help organize D'Youville's annual International Fiesta.

Image

Earn extra money with a job on campus. International students are eligible for employment on campus up to 20 hours per week.
Events for International Students
International Week – November
To promote international awareness on campus, each day we focus on a different region of the world.
International dancers, food from local restaurants, a marketplace, and educational programming make this an exciting week on campus.
International Student Fiesta – November
An evening of entertainment that showcases special food and activities from all regions of the world.
Allows current students to show off their home countries.
Diversity Week – April
A joint event held In conjunction with the Office of Multicultural Affairs.
A week celebrating the cultural richness that can be found at D'Youville.
Spring ISS Luncheon – May
A great way to wrap up the academic year with friends and ISS staff, and a chance to unwind during your final weeks of the spring semester.
Mandatory International Student Health Insurance
| Fee | Cost |
| --- | --- |
| August 1, 2022 -  July 31, 2023 | $2,741 |
| January 1, 2023 - July 31, 2023 | $1,724 (estimate; subject to change) |
How to Pay U.S. Income Taxes
All full-time international students living in the United States must file income taxes every year.
If you have earned income in the U.S. by working on or off campus
You must file a federal tax return by submitting a completed 1040NR form to the Internal Revenue Service. You must also submit and complete an IT-203 form to New York State.
If you are employed by the D'Youville Student Employment Program (SEP), you will be taxed on your earnings (federal tax codes require that $7.60 must be withheld from your pay every week).
If you have not earned income in the U.S.
If you were not employed but are living in the U.S. as an F-1 student, you file federal taxes using Form 8843.
Attention Canadian Students
Every Canadian student will receive a TL11A tax form from the institution. The TL11A will show the total tuition and fees that you paid for the year. TL11A forms are mailed to Canadian students in January.
If you do not receive your TL11A, you can pick it up in the Student Accounts Office.
If you worked at all in the U.S. during the year, you are required to file both a U.S. and Canadian tax return. If you haven't worked in the U.S. (but are a full-time student residing in the US), you must still fill out Form 8843 for exemption.
Canadian full or part time students that maintain residency in Canada and have not worked in the United States, are not required to file taxes.
PROCEDURE FOR FILING TAXES (INTERNATIONAL STUDENTS)

If you're employed on or off campus, every January you will receive a W-2 form (a statement of your earnings and taxes withheld). Students who work on campus can pick up their W-2 forms from D'Youville's Student Accounts Office.
If you have received a room and board scholarship, which is considered taxable income, a 1042S will be issued. Please make sure to wait to file your taxes until you have received this form. The ISS will receive the statements from Human Resources and will contact you when they are available for pick up.
Remember to file your taxes no later than April 15th.
ASSISTANCE WITH FILING TAXES

Internal Revenue Service (IRS) - Walk-in service is free at IRS Customer Service Centers. An office is located at 130 South Elmwood Avenue, Buffalo, NY. It is open Monday through Friday, from 8:30 AM to 4:30 PM. For questions about refund checks, call 1(800) 829-4477 (toll free). For an automated line or for general questions, call 1(800) 829-1040 (toll free). To download tax forms and IRS Publication visit www.irs.gov/formspubs and the IRS web page for Foreign Scholars and Students.
Volunteer Income Tax Assistance Program (VITA) - The VITA Program offers free tax help to low- to moderate-income (generally, $42,000 and below) people who cannot prepare their own tax returns. Certified volunteers sponsored by various organizations receive training to help prepare basic tax returns in communities across the country. VITA sites are generally located at community and neighborhood centers, libraries, schools, shopping malls, and other convenient locations. Most locations also offer free electronic filing. To locate the nearest VITA site, call 1 (800) 829-1040. ** Please make sure that you contact the VITA site beforehand to see if there is a certified volunteer that has the specialized foreign tax knowledge needed to file for F-1 students. Not all sites provide this service.
COMMERCIAL TAX PREPARATION SERVICES

Renda and Renda- Starting at $75 and provide on campus service

525 Aero Dr. Cheektowaga, NY 14215 (716) 632-8597

Jackson Hewitt- Full-time student flat rate fee with college ID (ages 17-25): $89

293 Grant Street Buffalo, NY 14213 (716) 886-3557
583 Niagara Street #585 Buffalo, NY 14201 (716) 884-2969
446 Main Street Buffalo, NY 14202 (716) 848-2980

Liberty Tax Service - Fees start at: $90

360 Amherst Street Buffalo, NY 14207 (716) 874-1317
HELPFUL TAX LINKS