Double Room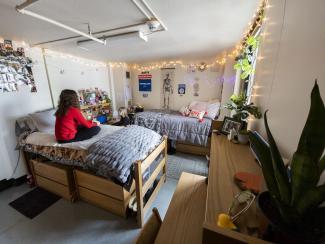 Furnishings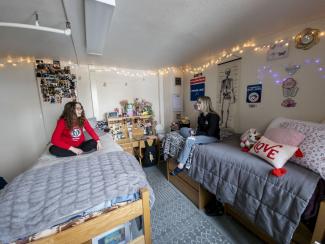 Marguerite Non Renovated Triple Floor Plan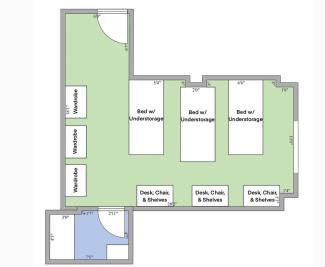 Marguerite Non Renovated Double Floor Plan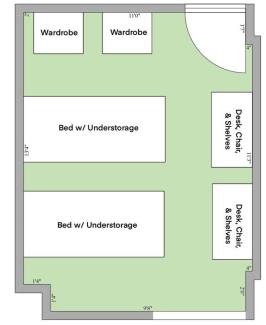 Marguerite Renovated Triple Floor Plan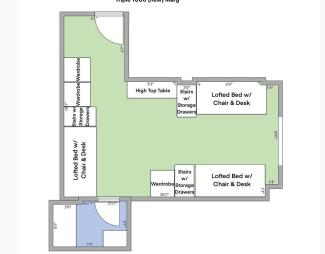 Marguerite Renovated Double Floor Plan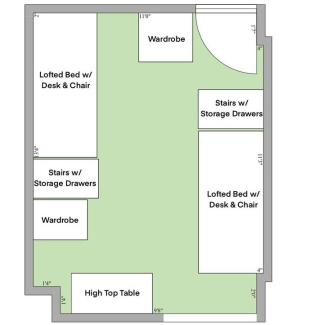 Renovated Double Room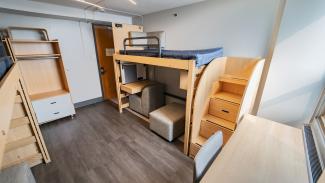 Renovated Double Room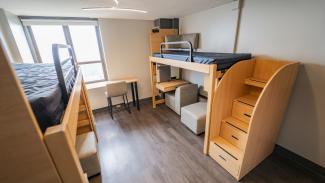 Original Double Room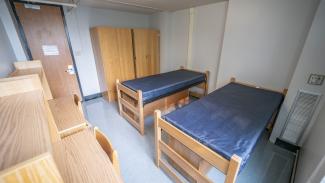 Original Double Room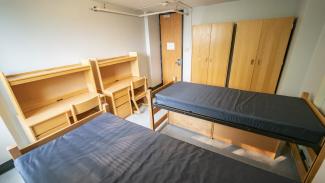 Dimensions & Details
Each 15 ft. x 11.5 ft room is furnished with:
Closet/wardrobe
Standard twin bed
Dresser
Desk
Desk chair
Wall desk light
Windows
Windows measure 59 in. wide by 66 in. long with blinds permanently installed. Any further window decorations may be installed only with tension rods, no other form of attachment is allowed.
Students Supply These Items:
Students supply their own linens and personal items including, but not limited to, TV, floor lamps (no halogen lamps or multi-arm lamps permitted), carpet, mirror (to be hung on back of door only), and decorations to individualize each space.
SpectrumU
Students who live in the residence halls can access their Spectrum U accounts from their desktop, smart devices, mobile devices, and kindle.
Spectrum U services are only available to D'Youville students that live in the residence halls/apartments.
Questions? Email housing@dyc.edu
HOW TO SIGN IN

While connected to an authorized network (D'Youville Campus Wireless, ResNet Wireless, D'Youville Wired Network), browse to: Sign In | Spectrum TV.
Select the "Sign in to Spectrum U" button.
Enter the domain for "Dyouville" dyc.edu without the @, click "Submit".
You will be redirected to the Microsoft Single Sign On page. Enter your FULL D'Youville email account and password here.
Select "Continue" when you are redirected.
You will be redirected to live TV. Select "Sign Out" or close your browser to leave the platform.
COMPATIBLE DEVICES

Kindle Fire Phone, all Kindle Fire models except for the 1st general model
All major Android smartphones and tablets running Android 5.0 or above
iPhone, iPad or iPod touch running iOS 11 or above
Roku
Apple TV
Chromecast and Android casting devices
Web browsers (for desktop, laptops and smart TVs with browsers): 

PC: IE 11, Chrome 43 or newer, Firefox 45 or newer, MS Edge 12 or newer
Mac: Safari 7 or newer, Firefox 45 or newer, Chrome 43 or newer

Spectrum U is available for mobile and handheld devices via the Apple App Store, Google Play, and the Amazon App Store.
Resident Advisors
Resident Advisors (RA) are student leaders who live with their fellow students in the residence halls. RA's are responsible for the management and assistance of residents on their floor.
RAs serve as the initial contact person for the students on issues such as: roommate conflicts, maintenance concerns, general questions about the campus, and issues that may arise within a Residence Hall community. They implement social and educational programs within the halls, build a community, and assist with enforcing the College's Code of Conduct.
RAs are a great resource, as they were starting their journey at D'Youville – just like you are — not too long ago!