Master of Science in Family Nurse Practitioner
2.5-3 Year
40 Credit Hours, 700 Clinical Hours
Overview
A family nurse practitioner meets the healthcare needs of the family by providing primary and specialty care for patients of all ages.
Classes are held on Tuesdays and Thursdays and the program can be completed in two-years of full-time study. Upon graduation, you are eligible to take the examination for board certification.
If you're interested in becoming a family nurse practitioner (FNP), D'Youville's nursing program is an ideal place to start. Established in 1942, the Patricia H. Garman School of Nursing has an excellent reputation as one of the best in the region for high-quality, student-centered education.
Our Family Nurse Practitioner MS degree is offered online and on campus.
Why Choose D'Youville?
Our faculty are clinical experts in their fields and recognized for their student-centered approach that emphasizes individualized instruction and career guidance.
Studies show that teamwork across clinical specialties improves patient outcomes. D'Youville's unique interdisciplinary education lab offers the opportunity for you to practice treating patients (played by actors) alongside a team of students from 7 other health care majors at D'Youville — all under the supervision of a skilled instructor.
D'Youville's nursing program reflects the institution's mission to educate professionals who contribute to the world community through leadership and service to others.
If you're interested in furthering your education after you complete your master's degree, D'Youville's Family Nurse Practitioner (DNP) program may be an option.
What you'll learn:
To assess, diagnose and manage common acute and chronic illnesses
Skills in promoting healthy habits and educating patients about disease prevention
Practical experience in women's health, pediatrics and adult settings
Careers
D'Youville's two-year MS (Master of Science in Nursing, Family Nurse Practitioner) program prepares graduates for the licensure examination.
A Family Nurse Practitioner's Role
Family Nurse Practitioners provide primary and specialty care. They assess, diagnose, plan and institute management of health care services for individuals and families in need of care.
With an advanced degree in nursing, more nurses are involved in research, consulting and private practice.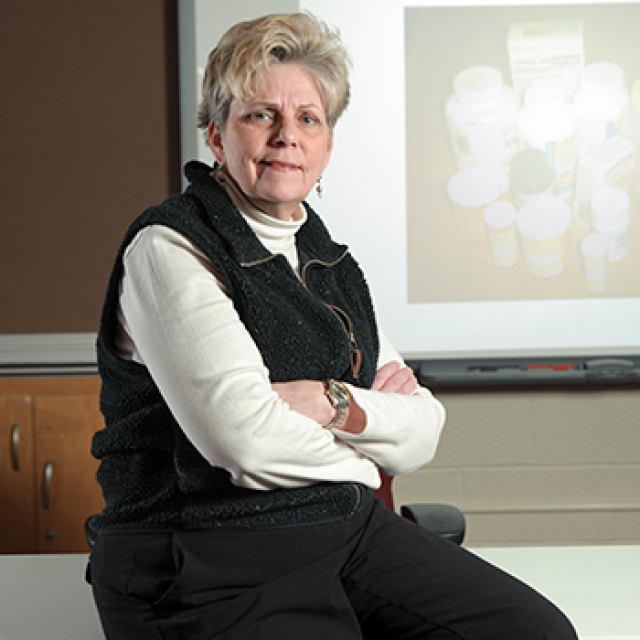 Admission Requirements
We recommend that applicants to D'Youville's family nurse practitioner (MS) hold at least one year of practice as a registered nurse.
Program Requirements

In addition to the general admission requirements for graduate programs at D'Youville College, applicants for the master of science degree in family nurse practitioner must present the following:

Completed online graduate application for admission (no application fee).
Completion of a baccalaureate degree in nursing from a CCNE or NLNAC (ACEN) accredited program at a college or university in the US (or by the CNO in Ontario).
Evidence of capability to succeed in a graduate program based on an overall undergraduate GPA of at least a 3.0 (on a 4.0 scale).
Official transcripts from all college/ universities attended. Non - U.S. students must submit 'course-by-course' evaluation (or equivalent) of all college and/or university transcripts through the World Education Services (WES) or other approved foreign transcript evaluation agencies.
An overall G.P.A. of at least 3.0. Applicants with a baccalaureate degree in nursing, earned more than five years ago, with an overall G.P.A. less than 3.0 but more than or equal to 2.7, who have achieved significant professional success as documented on curricula vitae, may submit an application for consideration. Preferential admissions will be given to applicants with a G.P.A. of 3.0 or higher.
Active unencumbered licensure as a registered nurse in New York or in Ontario for Canadian students.
A current CPR certification with a psychomotor component.
One year of practice as a registered nurse with a baccalaureate degree is required.
Baccalaureate-level health assessment, pathophysiology and pharmacology courses or equivalent.
A student who meets the entry requirements and is currently or previously enrolled in a nurse practitioner program at another college or university must obtain a letter from that School of Nursing stating the student is in good standing, not on probation, and able to register for classes. Students who were dismissed for any reason from a graduate nursing program will not be considered for admission.
Applicants who work full-time are not eligible for planned 2-year completion of the Family Nurse Practitioner track.

Canadian RN students must submit two licensure items:

A copy of original Certificate of Registration (issued upon passing of initial examination)
A copy of Annual Registration Renewal (showing current unencumbered license)
Prerequisites

Applicants to D'Youville's family nurse practitioner (MS) must complete the following undergraduate course prerequisites:

Statistics
Health Assessment (or equivalent)
Pathophysiology (or equivalent)
Pharmacology (or equivalent)

Canadian students must submit a 'course-by-course' evaluation (or equivalent) of all Canadian college and/or university transcripts through the World Education Services (WES).

Use the Online Course Equivalency database to see whether the courses you've taken at other institutions can be counted towards a degree at D'Youville.
Transfer Credit Policy

Students may transfer up to nine graduate credits with grades of B or better into their program at the discretion of the program director. Credits must be earned from an accredited institution in courses required by the program being pursued.
Curriculum
Find detailed course information for the Master of Science in Family Nurse Practitioner program, tools to plan your education, and complete academic policies and procedures in the D'Youville academic catalog.
Graduate Nursing Degrees at D'Youville
The Bureau of Labor Statistics forecasts that nursing profession will increase 19% per year until at least 2022. Denise Dunford, DNS, FNP-BC, APRN, an associate professor at D'Youville, explains why D'Youville's graduate programs prepare students to meet demands and take leadership roles in healthcare.
Interprofessional Education
Nursing students at D'Youville learn to work as part of a collaborative healthcare team through Interprofessional Education Labs.