After holiday visits with family, Ukrainian students at D'Youville look to their future
March 6, 2023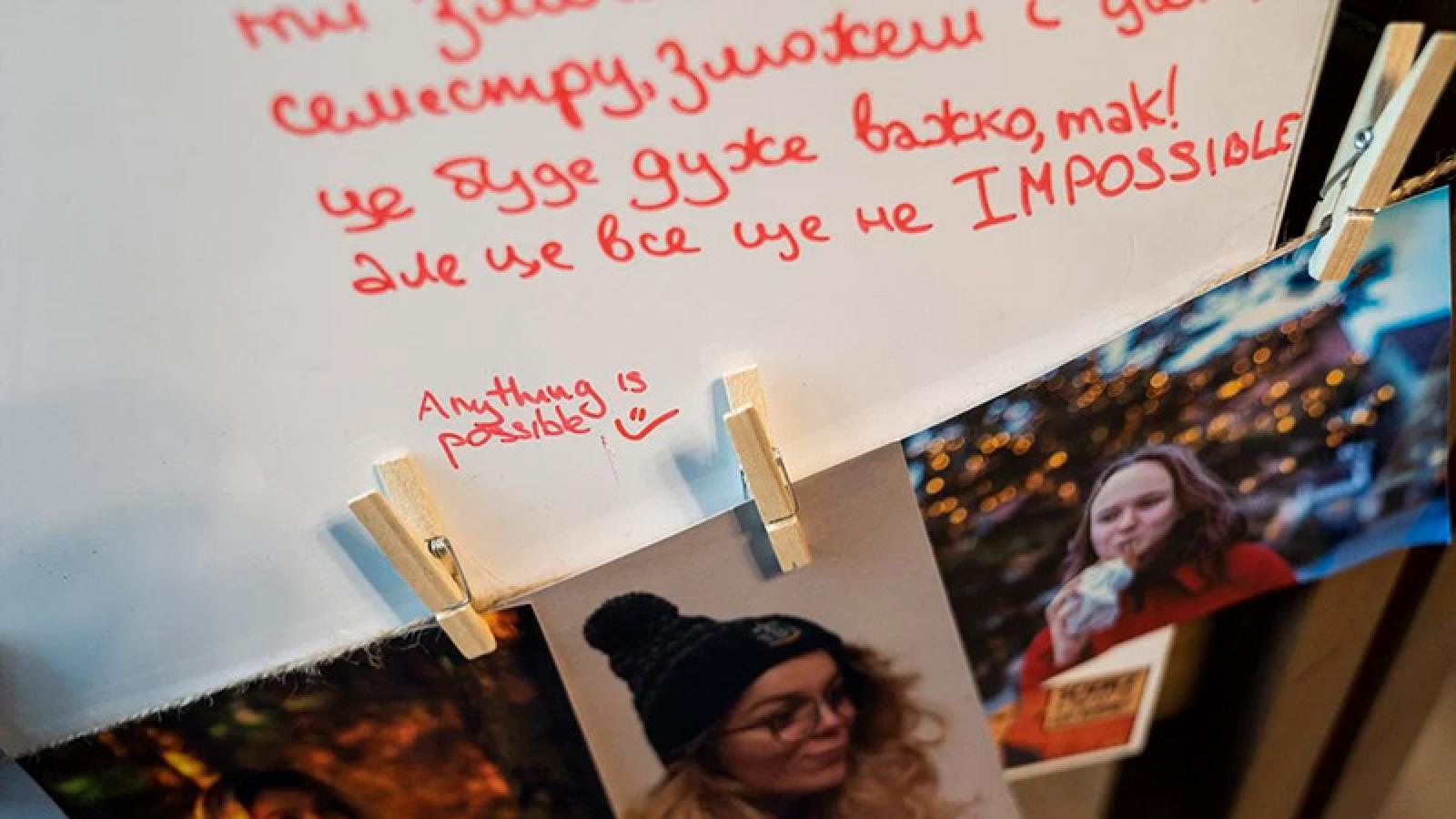 The whiteboards in their dorm rooms at D'Youville University say a lot in few words.
In a corner of hers, 17-year-old Anastasiia Horova wrote herself a little pep talk in Ukrainian. Loosely translated, it says "It is going to be very difficult, but nothing is impossible." The word "IMPOSSIBLE" is capitalized in English, followed by "Anything is possible" and a smiley face.
Yaroslav Malynych, 18, wrote a brief to-do list on his: "Credit union. Driver license. Internships." He crossed out "credit union" when he applied for a credit card last week. He put two hashmarks after "internships."
"I am seeking a summer internship, and I applied for two and already got rejected," said Malynych, a chemistry major. "It's hard."
Horova and Malynych are among 11 students from Ukraine who arrived at D'Youville last fall to study in a safer place than their homeland after Russia invaded it on Feb. 24, 2022. D'Youville quickly responded by offering to sponsor at least 10 students a year from Ukraine to pursue college away from the dangers of war.
According to Reuters, more than 150 U.S. colleges and universities have made special efforts to assist Ukrainian students, in some cases even paying for their flights out of Ukraine. The Ukrainian students at D'Youville are receiving full tuition, room, board, work-study jobs and support services like counseling and tutoring.
The Buffalo News is following two freshmen who made the leap to escape the war through their first year of college while their families and homeland endure Russian aggression.
Of the 11 Ukrainian students who live on the same floor of D'Youville's Marguerite Hall, Horova and Malynych were the only two who traveled to see their families over the recent holiday break. They were able to bring gifts, spend time with loved ones and miss the deadly blizzard that struck Buffalo while they were away.
Back at school for the semester that started Jan. 17, they described holiday fun, bittersweet goodbyes and trying to focus on future goals with a war at the back of their minds.
Meeting in Berlin
Horova spent her break in Germany because her parents refused to let her come home. Their town of Kryvyi Rih in southern Ukraine has suffered attacks by Russian cruise missiles that killed several civilians last year and damaged infrastructure since.
Horova stayed with her sister, Elizabeth, 27, and brother-in-law who live in the Weissensee region of Berlin, and their mother took a bus to join them for a couple of weeks. They followed traditions of celebrating Christmas after New Year's, enjoying fireworks shows, making holiday staples like crabstick and corn salad, and playing games every night, she said.
She brought distinctly American gifts – a Darth Vader hoodie for her brother-in-law and a Harry Potter "Catch the Golden Snitch" game for her sister, which turned out to be "dangerous," she said.
"You have to catch the Golden Snitch when it comes out of the box, and it can hurt you," she said. "My mom is competitive and she hit her forehead on the table trying to catch it."
Her mom brought her several pounds of her favorite Roshen candies, some of which came to D'Youville to be shared with friends. Her sister printed a bunch of family photos that now hang under the whiteboard at the foot of her bed.
Whether with her family or at school, she said she avoids discussing the war.
"I am trying not to go deep into this topic because it really influences badly on my nervous system," she said.
A visit home
Malynych did go home to Ukraine. His native city of Lviv in western Ukraine is mostly undamaged by the war except for attacks on its electrical grid. Lviv is among many areas of Ukraine enforcing scheduled blackout times to save energy for emergency outages.
"We had power outbreaks scheduled four hours on and four hours off, so it added some difficulties because you have to fit in your activities when you have electricity," Malynych said. "When it is warmer out, you don't need as much heat, so you can use more electricity. When it's colder, it is opposite."
A big change from when he left last August is also related to the outages. "All the commercial buildings have generators, so when you are walking downtown, every single shop has a generator going," he said. "So it's really loud."
His trip home was special because it represented a last chance to see his parents and brother before he turned 18 on Jan. 14. Under martial law, Ukrainian men age 18 to 60 are banned from leaving the country in case they may be called to fight. His brother, Ross, 29, is in that situation.
Yaroslav left Buffalo Dec. 12, flew to Warsaw via Copenhagen and took a bus to Lviv, arriving at 4 a.m. Dec. 14 to a tired but happy reunion.
He spent most of his break relishing family time, home-cooked meals and adventures including driving lessons on Lviv's narrow streets and a snowy, daylong hike with his brother on one of Ukraine's highest peaks, Petros, elevation 6,627 feet.
"It took us four hours to go up and a little less to come down," he said. "My whole left side was covered in ice."
Like Horova's family, the Malynychs celebrated Christmas on Jan. 7, a Russian tradition from before Ukraine gained independence in 1991. But because of the war, the Ukrainian Orthodox church gave congregants permission to celebrate Dec. 25 as a way to break from Russia.
"Next year we will convert it to Dec. 25 like you guys," Malynych said.
Three days before his birthday, on Jan. 11, his parents drove him to Warsaw, sightseeing along the way. For his party, they rented a house and several of his friends who are attending colleges in Poland to escape the war came to celebrate.
He blew out 18 candles on a fruity cream cake Jan. 14 and got on a flight back to the states the next day. He described their goodbye as emotional but grateful.
 "Of course they miss me, but they know it's my life at stake and it's better for me being here," he said.
He arrived back to a room of his own because his American roommate, who became a close friend, transferred to the University at Buffalo. Now he is immersed in 8 a.m. classes, chem lab, a research project to develop a more energy efficient battery and his work-study job staffing an information desk 10 hours a week.
In between he joins friends on excursions, like a recent hike at Eternal Flame Falls in Orchard Park. He's been studying the New York State driver's manual and hopes to get his license by summer, which may take some help from friends with cars.
"My friends are not fond of it because they know I like to drive fast," he joked.
A new major
As for Horova, she realized by the end of her first semester that her nursing major doesn't excite her, so she plans to apply to D'Youville's physician assistant program for the fall.
That means carrying 18 credits this semester, including a particularly challenging biology practical that involves visiting 20 stations to answer 60 questions at a speed of three per minute.
"Even if you know something, you freeze because it's so intense that you get nervous and forget," she said.
She tries to take the edge off her stress through game nights with friends and running track, which has taken her to meets in New York City and Ohio. She misses her dog, a Pomeranian named Fanta, and dreams of somehow bringing him to Buffalo.
Her whiteboard helps her stay on track, especially on days that include the dreaded biology practical.
On a recent Tuesday, it read, "11-13 practical, 13-15 crying + lunch?"
Translation: Bio practical from 11 a.m. to 1 p.m. From 1 to 3 p.m., she may or may not eat lunch. But she definitely will need time for a cry.
By: Janet Gramza
Higher Education Reporter
I'm the new Higher Education reporter on The Buffalo News business enterprise team. I previously worked at The Post-Standard/Syracuse.com and Syracuse's Rosamond Gifford Zoo. I'm a Rochester native with family in Buffalo. Email me atjgramza@buffnews.com.