D'Youville University to Begin Inaugural Women's Wrestling Season
August 24, 2023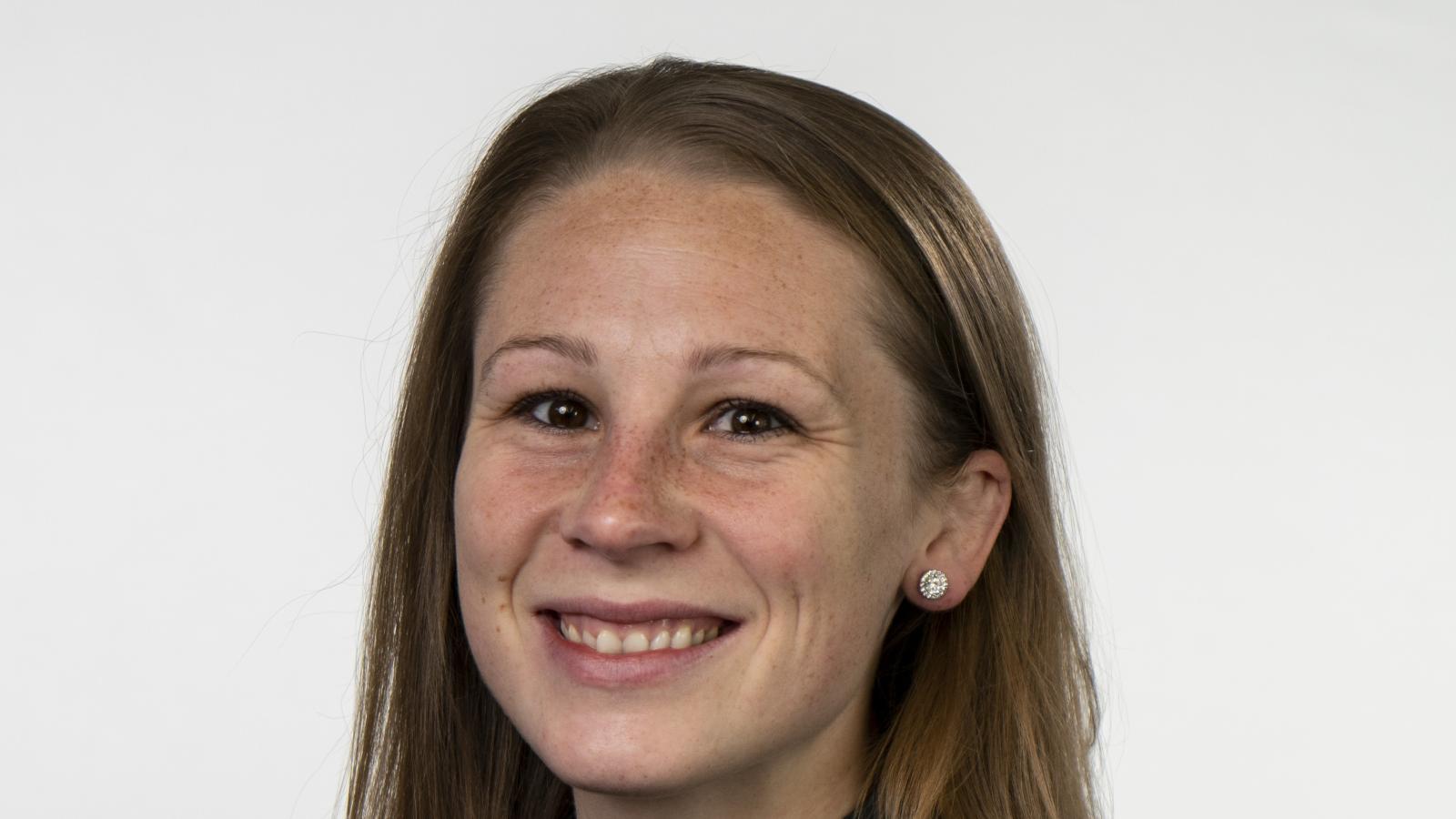 Original Article by Cole Bambini, The Buffalo News
When Carlene Sluberski was looking to wrestle in college, there were zero women's programs in New York State and only about 10 in the nation.
A 2009 graduate from Fredonia High School, she competed at the Northern Michigan University Olympic Education Center before transferring to Brock University in St. Catharines, Ontario.
Now, Sluberski has returned home to serve as head coach of D'Youville University's women's wrestling program, which will have its inaugural season in the 2023-24 academic year.
D'Youville became the third school in New York to offer a women's wrestling program, introducing the team in June 2022 shortly after Buffalo State announced its women's wrestling program, which will begin in the 2024-25 season.
"I think that D'Youville saw an opportunity in women's wrestling to build a great program and obviously it's unique – we don't have men's wrestling," said Sluberski, a four-time Canadian Interuniversity Sport champion.
The additional programs mean increased opportunities for collegiate women's wrestling in New York and nationally. Five NCAA programs in New York state will be established by 2024 – Utica University, Alfred State and Elmira College in addition to Buffalo State and D'Youville. At the National Junior College Athletic Association level, Nassau Community College has had a program since 2017.
Nationally, there are more than 90 NCAA, 40 NAIA and 25 NJCAA women's wrestling programs. Only four NCAA programs are in Division I as women's wrestling is heavily centered in Division II and Division III. D'Youville has finished its three-year provisional period and its athletic program has completed its move from D-III to D-II. Buffalo State will compete in Division III.
"It's fantastic," Section VI girls wrestling coordinator Alex Conti said. "I hope that they bring them on not as eye candy. They bring them on and support them."
Development at D'Youville
Sluberski was nine months pregnant when D'Youville announced the addition of its women's wrestling program. At the time, she was living in La Grande, Ore., and coaching at Eastern Oregon.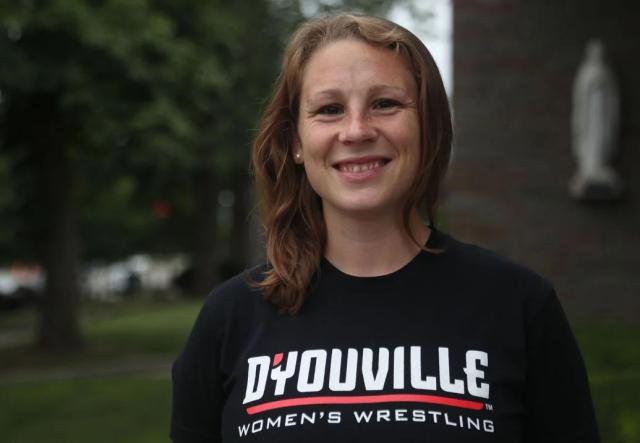 She previously had worked with the women's wrestling teams at the University of Providence in Montana and the University of the Cumberlands in Kentucky.
She applied for the opening, which would put her near her family in the Lancaster and Elma areas. A month after having her firstborn, she visited the campus.
Sluberski was hired as D'Youville's first coach in September.
"She's had a storied career," said Conti, who coached Sluberski at Fredonia. "As we get more and more people like Carlene coaching these college programs, you're going to see an explosion in that world. Get that quality of person as well as quality of wrestler or knowledgeable wrestler."
Sluberski's transition to her new role has been a little different than what she was used to in the past. She's spent much of her time recruiting and creating the inaugural roster. The jump to Division II means athletic scholarships are available, which Sluberski said is a "neat opportunity" for recruiting, but she emphasized the importance of finding the right fits.
D'Youville has a strong health care program, Sluberski said, adding that not many schools that offer women's wrestling offer that academic program. That's what got two-time national champion Emily Sindoni to switch her commitment from Utica to D'Youville. Sidoni, who grew up in Tioga, has aspirations of becoming a surgeon.
"I have a very broad scope," Sluberski said of her approach. "I would love to keep in-state talent or talent from Western New York here, but it's got to be a good fit for them academically, too. I think there's plenty of talent (in Western New York)."
D'Youville's inaugural roster has six freshmen. Three come from New York, two are from Texas and one is from Pennsylvania. The wrestling room is almost finished and Sluberski is eager to get going.
This season, Sluberski said D'Youville will compete in events at Alma College, Elmira College, Gannon University and Adrian College, among others, though it does not plan to host an event. While she was at Eastern Oregon, most of its matches were eight to 10 hours away, with the closest being six hours away, so she said the proximity is a nice adjustment.
"I think that is a really great opportunity for us to lay the foundation of the program and create those expectations and what those area for coaches, athletes, everything," Sluberski said. "I just think this first year is a really important piece in the puzzle and making sure everybody's on the right track."
Finding top recruits
Twin sisters and North Tonawanda high school wrestlers Hannah McCarley and Brenna McCarley are in the middle of the college search process and have looked into D'Youville's program. They've received some offers, but have yet to make a decision. However, they said they want to be part of a foundation of a program.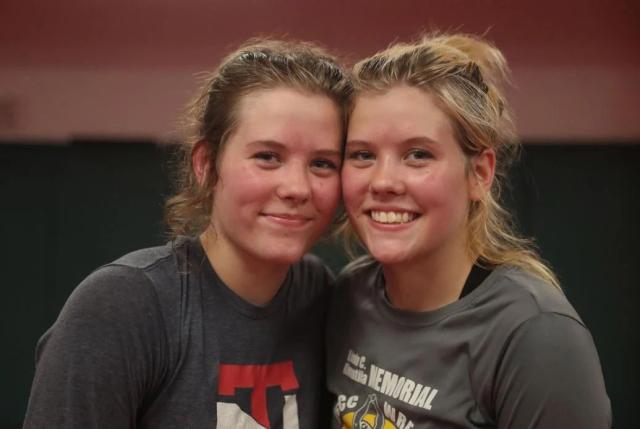 "We really want to help grow a team," said Brenna, who won the 107-pound title at the state intersectional championship in February. Hannah won the championship at 114 pounds.
Conti, the Section VI chairman, said he thinks colleges can grow their enrollment by offering women's wrestling because it might open doors to students who might not have considered pursuing a college education.
"There's an awful lot of people that want to do this," Conti said of WNY collegiate programs being added. "I think that it's awesome that we're having this growth and I think that it's just the tip of the iceberg. I think it's going to just keep growing and growing and growing."
Original article by Cole Bambini