D'Youville U offers nation's first 3-year online PharmD program
April 11, 2023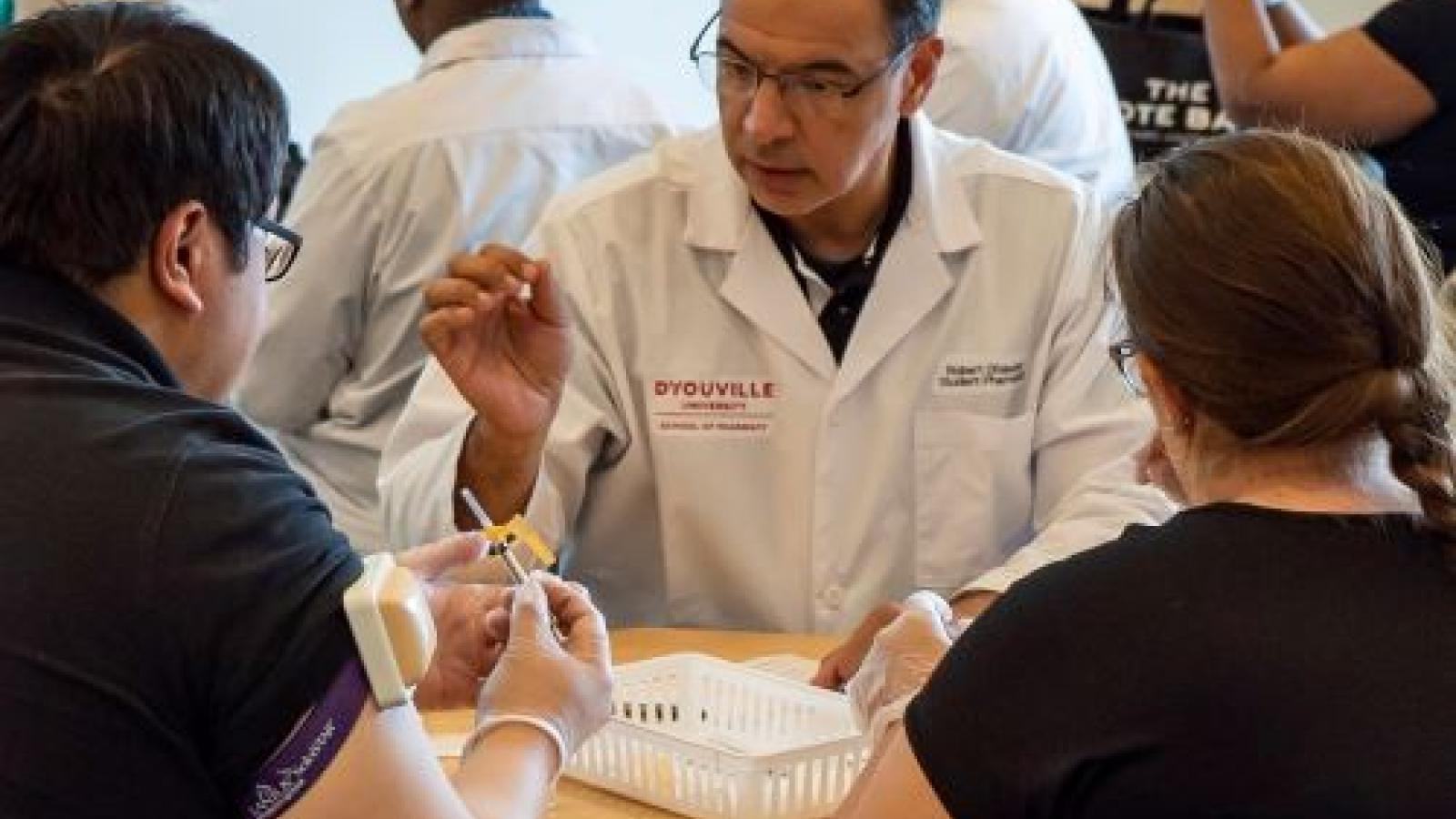 Article by: Janet Gramza of the Buffalo News
Emma Seager of Wilson majored in biology at Texas A&M University, earned a master's in education at Niagara University and taught science at St. Peter's School in Lewiston for four years before she realized she wanted to be a pharmacist. 
Her classmate, Christiana Vazquez Rivera, lives in Roselle, N.J., and holds a master's in microbiology from Long Island University. She was interested in health sciences, but didn't consider pharmacy until she got a job as a pharmacy tech at Walgreens. 
Seager and Rivera live 380 miles apart, but both spent a recent week with 58 other students at D'Youville University, as the first class in the nation's first online program for future pharmacists to earn a Doctor of Pharmacy degree in only three years. 
The course is part of D'Youville's effort to build relevance by offering options available to earn degrees in well-paying, in-demand fields as quickly as possible. That includes offering more online, accelerated courses, said Jeremiah Grabowski, D'Youville's Executive Dean of Online Learning and Faculty Development. 
As pharmacies across the country, including CVS and Walmart, have cut their hours due to a shortage of pharmacists, D'Youville sees the field as a growth opportunity. 
"We are always trying to meet workforce demand and find gaps we can fill," Grabowski said. "In this case, we found a gap for the adult student market and we went after it." 
Grabowski said D'Youville is striving to offer more online programs in recent years to cater to working students. 
"When I started here in 2007, there was only one online program with about 50 students," he said. "Now we have 17 with about 330 students, and by this coming fall, our goal is to be at 500 online students." 
The university, which serves 2,900 students on campus, began designing the online PharmD course "from the ground up" prior to the Covid-19 pandemic, Grabowski said. 
Pharmacy faculty worked with online designers for six months to craft the course, with three 14-week trimesters year-round (including summers) and five days of in-person training on campus in each. 
"A lot of our online programs are accelerated, and that's what our students prefer," Grabowski said. "Most pharmacists get paid six figures, so that extra year in the workforce makes a big difference in their earning potential." 
The program also places students in clinical rotations at pharmacies in their home areas each trimester. 
D'Youville enrolled its first 60 online PharmD students with a financial aid incentive in September, and is accepting students for the second cohort this fall until June. 
"We anticipate that our next class will be closer to 100," Grabowski said. 
Seager said the program's flexibility allows her to do as much as eight hours of classwork a day around her 2-year-old son's schedule. She reviews her work plan each morning, gets some studying in when he naps and dives in when his grandparents take over at 4 p.m., she said. 
"Between 4 and midnight I'll study or take an exam," she said. "It is really fast paced. It does take initiative to make sure you're on goal ... but the professors are really good about accommodating any need for guidance." 
Like Seager, Rivera said she appreciates the flexibility of online learning. 
"If you're a night owl, you can do the work at night, and if you're an early bird, you can do it in the morning," she said. "But if you're a good self-learner and can manage your time, it's definitely a great program." 
For her week on campus this trimester, Rivera drove seven hours with a break halfway to Buffalo and stayed at an Airbnb for five days. It also offered a chance to meet classmates in person. 
"We are really spread out, with some of us local and some in Long Island or even California, but you do get to know people," Seager said. "We send each other notes like, 'How are you studying for this?' or 'Is this due tomorrow?' It's been a great experience." 
The program isn't cheap – tuition ranges from $140,000 to $180,000, depending on scholarship aid. But Rivera said her salary as a pharmacist will make her loans easy to pay. 
"I make $18 an hour now, and that's high for a pharmacy tech," she said. "As a pharmacist, I will start out making $55 an hour, and unlike a lot of other health care workers, I can have a work-life balance because you don't get so engrossed in the job that it's your whole life."