D'Youville University 2022-2023 Hall of Fame Class
October 5, 2022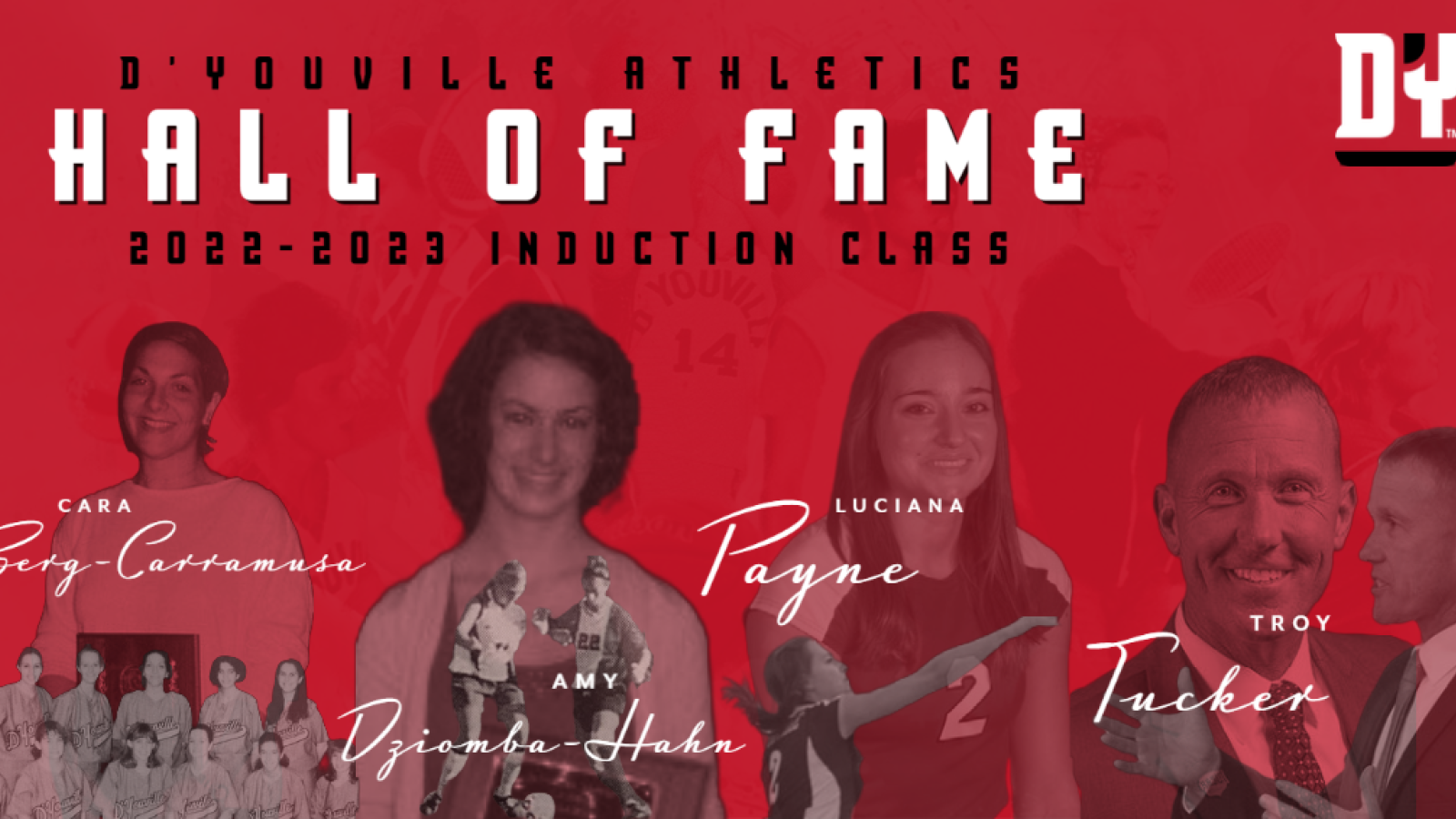 D'Youville University 2022-2023 Hall of Fame Class
BUFFALO, N.Y. – The D'Youville University Athletics Department is proud to announce the 2022-2023 Hall of Fame inductees this week. Members of the class contain three former athletes and an administrator. The Inductees are: Cara Berg-Carramusa (Softball), Amy Dziomba-Hahn (Women's Soccer), Luciana Payne (Women's Volleyball), and Troy Tucker (Director of Athletics).
"We are incredibly proud to name Cara Berg-Carramusa, Class of 1999, Amy Dziomba-Hahn, Class of 2008, Luciana Payne, Class of 2013, and Troy Tucker, director of athletics from 1996-2000, into our second Hall of Fame class," said Ona Halladay, Executive Director of Intercollegiate Athletics.
Cara Berg-Carramusa, Softball (1996-99)

Cara Berg-Carramusa was a three-year starter for the D'Youville softball team, earning multiple accolades throughout her career. Berg is a two-time NSCAA All-American, becoming the first athlete in D'Youville history to earn All-America honors in 1996-97. She was named the 1998-99 D'Youville College Athletic Department Female Athlete of the Year.
Post D'Youville, Cara now serves as an Assistant Professor and the Director of Clinical Education for Youngstown State University's Doctor of Physical Therapy program and serves as graduate faculty for the PhD in Health Sciences program, both within the Department of Graduate Studies in Health and Rehabilitation Sciences. She is an American Board of Physical Therapy Specialties Board-Certified Geriatric Clinical Specialist.
Amy Dziomba-Hahn, Posthumously, Women's Soccer (2005-08)

Amy Dziomba-Hahn was a four-year player and two-year captain of the D'Youville women's soccer team. Hahn had a decorated career in the red and black, including a four-time Most Valuable Player nod. Hahn held the program record for career goals (37) stood until the 2012 season. She received Northeast Athletic Conference, NEAC, All-Conference honors and was named a NEAC Scholar-Athlete in 2005, '06, and '07. Hahn earned New York All-Region Second Team accolades in 2006. Named D'Youville Athletic Co-Female Player of the Year in 2007, Hahn finished the season leading the NEAC in points-per-game (2.46) and goals-per-game (1.08). Both statistical categories were ranked nationally in at No. 13 and No. 18, respectively.
Hahn was named to the Lambda Sigma National Honor Society and was named Psychology Student of the Year in 2008. She went on to earn her master's degree in mental health counseling from Niagara University. She worked in a children's and family outpatient clinic before returning to D'Youville in 2019, where she served as a mental health counselor.
Luciana Payne, Women's Volleyball (2009-13)

Luciana Payne was a decorated women's volleyball player for D'Youville, receiving Most Valuable Player honors, and serving as a two-time captain. She was named to the Allegheny Mountain Collegiate Conference All-Conference Second Team in 2012 and Third Team in 2011 and received AMCC Academic All-Conference in all four seasons. Payne finished her playing career with 963 kills, averaging 2.61 kills-per-set and a .221 hitting percentage. She was Top-10 in kills in the AMCC in 2010, '11, and '12, and led the team in kills all three years. Payne led the team in blocks from 2009 – 12. She was named to the AMCC All-Academic Team from 2009-13. Additionally, she was named D'Youville women's tennis Most Improved Player in 2013.
Payne earned her Doctor of Chiropractic and currently practices in Florida.
Troy Tucker, Athletic Director (1996-2000)

Troy Tucker was the Director of Athletics from 1996 – 2000. He helped guide D'Youville to NCAA Division III membership and grew the athletic department from three varsity sports to nine. He helped initiate baseball, softball, men's and women's cross country, and men's soccer programs, while elevating the men's volleyball program from a club level to varsity status. Tucker was named the National Small College Athletic Director of the Year in 1997-98. He was the Founder and Commissioner of the Independent Small College Athletic Association, ISCAC. During his tenure, he served the athletics department in multiple capacities including head coach of the men's and women's basketball and softball teams. In 1999, Tucker saw the men's volleyball team advance to the NCAA Division III National Championship match in Iowa.
After his departure from D'Youville, Tucker went on to serve as the Associate Director of Athletics at the University of Maryland, where the Terrapins captured four NCAA Division I titles. Since leaving Maryland, Tucker has been the Director of Athletics at Northampton Community College in Bethlehem, Pa., while also serving as the Executive Director of NJCAA Region 19.
Induction Ceremony Information
The induction ceremony will be held on Saturday, February 11th on the third floor of the Health Professions Hub. The event  begins with a cocktail reception at 5 p.m., dinner at 6 p.m., and the induction ceremony to follow. Tickets will be available for purchase online through Monday, February 6th and will include entrance to the ceremony, hors-d'oeuvres, dinner, and drinks. Congratulatory videoboard messages are also available for purchase and will be displayed during the ceremony.
2022-2023 Hall of Fame Weekend Schedule of Events

Friday, February 10, 6:30pm - Hall of Fame Welcome Reception for Inductees, Auxiliary Gym

Friday, February 10, 7pm – Men's Volleyball vs Daemen

Saturday, February 11, 1pm – Women's Basketball vs Roberts Wesleyan

Saturday, February 11, 3pm – Men's Basketball vs Roberts Wesleyan
Saturday, February 11, 5pm - Hall of Fame Cocktail Hour, Health Professions HUB

Saturday, February 11, 6pm - Hall of Fame Induction Ceremony, Health Professions HUB
The four exceptional individuals will be inducted into the Hall of Fame on February 11th.