D'Youville Names Wilkins, Owens, '99 Men's Volleyball as Inaugural Hall of Fame Inductees
March 30, 2021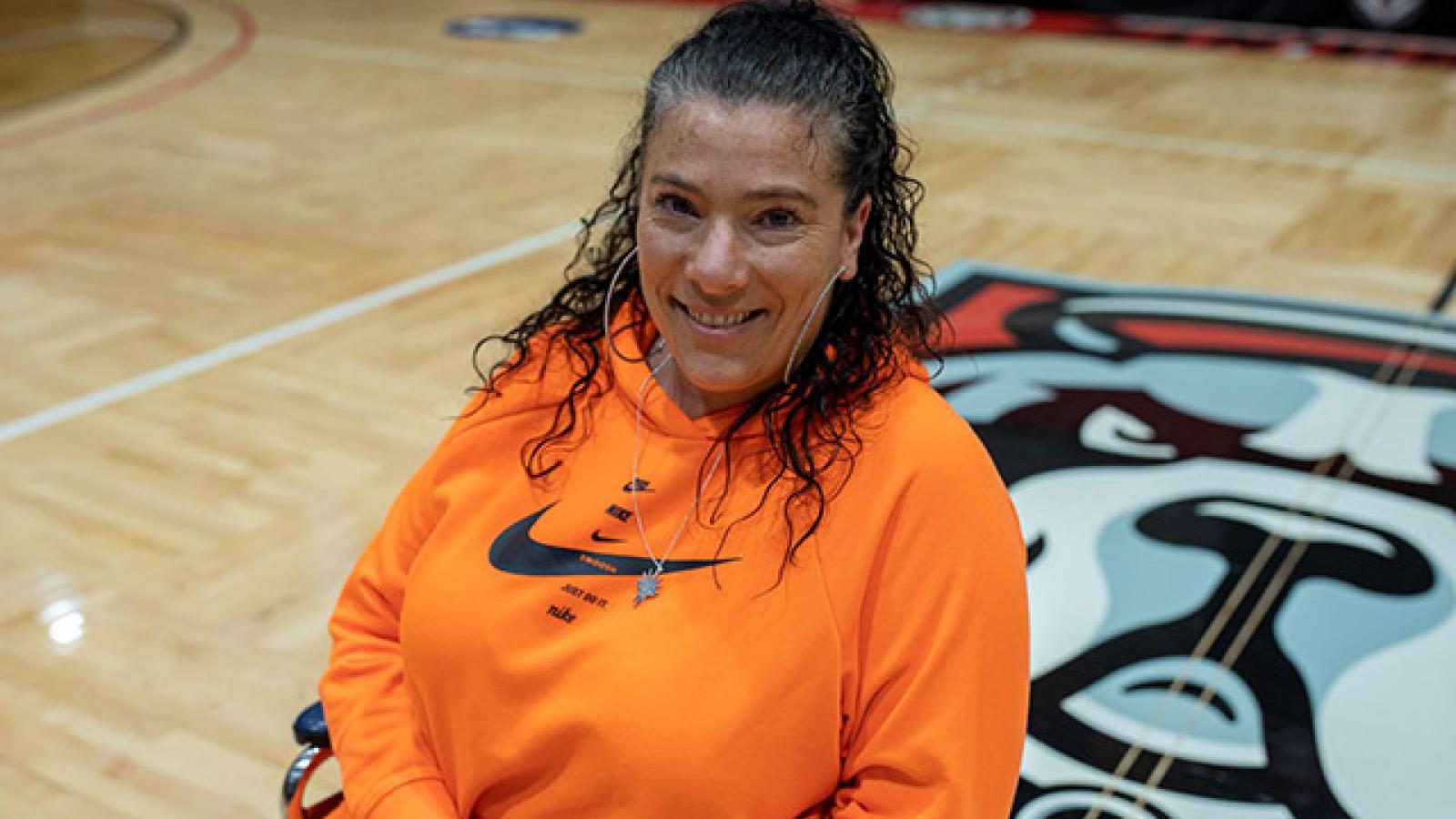 D'Youville Names Wilkins, Owens, '99 Men's Volleyball as Inaugural Hall of Fame Inductees
Buffalo, New York – March 30, 2021 – D'Youville's inaugural class for its brand-new Athletics Hall of Fame includes two women's basketball stars and a championship volleyball team, according to the announcement made today at 11 AM in the College Center Gymnasium. The formal induction ceremony will take place during Reunion Weekend at D'Youville in late September.
"We are incredibly proud to name Judy Po-Chedley Wilkins, Class of 1974, Carrie Stevens Owens, Class of 2003, and the men's volleyball championship team of 1999 as our first-ever Hall of Fame athletes," said Ona Halladay, director of intercollegiate athletics.
Judy Po-Chedley Wilkins was a force on the women's basketball team for four seasons. She averaged 20 points a game – before the advent of the three-point line – and was the team's Most Valuable Player in 1973-74. She was named an Outstanding Athlete by American Colleges Magazine, which highlighted the top players in the country at that time. Upon graduation, she received the school's highest honor, the D'Youville Medal, "conferred to a student whose character, intellectual achievement service, leadership and loyalty to the college renders them outstanding."
Wilkins continued to distinguish herself after graduating, serving as a Peace Corps volunteer in Columbia from 1976 to 1978 and on FEMA Burn and Disaster teams, including deployment to New York City after 9/11 and for other natural and man-made disasters from 2001 through 2009.
She participated in a medical mission to Ecuador with the D'Youville School of Pharmacy in 2019 and has volunteered in many community-based activities including Big Brother/Big Sister, Relay for Life, Lions Club, and as a volunteer at medical clinics and coaching sports. She also is an active D'Youville volunteer, serving on the Alumni Association Board of Directors and helping out at numerous alumni events.
The 1999 men's volleyball team was the first athletic team in D'Youville history to go a national Final Four championship. The team entered the season ranked ninth in the country by USA Today, and completed a perfect 20-0 conference record to win the North East Collegiate Volleyball Association Championship.
The program went on to a 32-3 record and made their way to the NCAA Division III Final Four Championship. As national championship runner ups, they earned a final ranking of No. 2 in the country. Five players – Brent Macrow, Marc McCabe, Gregg Rosowski, Jeff Rosowski, and Ben Rowell – were named to First Team All-Conference. The North East Collegiate Volleyball Association named Jeff Rosowski Player of the Year and Coach John Hutton as Coach of the Year.
Carrie Stevens Owens graduated in 2003 as the women's basketball all-time leading scorer and rebounder and was named Most Valuable Player three times.
A star forward, she was named Rookie of the Year by the Independent Small College Athletic Conference (ISCAC) in 1999 and led the team to Upstate Athletic Alliance (UAA) championships in 2000 and 2001. She was recognized as the UAA Most Valuable Player in 2000 and was the UAA Tournament MVP in 2001. After D'Youville joined the North Eastern Athletic Conference her senior year, she was named to the Conference First Team.
Upon graduation, Owens became an assistant coach at D'Youville and helped lead the women's team to its only NCAA Division III Tournament appearance. She then went on to a stellar high school coaching career, most recently with Sacred Heart Academy's stellar girls' basketball program.
Owens has recently been in the news as she faced personal tragedy with the strength and resilience she showed as a player. A devastating motorcycle accident forced doctors to amputate the lower part of her left leg, but only 12 days after the accident, Owens was back teaching high school remotely. Within four months, she was back on the sideline, coaching the Sacred Heart team to victory.
To watch the Hall of Fame announcement program, alumni and friends can tune into the ECC Sports Network at https://eccsportsnetwork.com/dyouville/.