Requirements
While it is recognized that students will not be able to attend all events, it is an expectation that Honors students will participate actively and regularly in such events and help to build a learning community both inside and outside the classroom. To receive recognition as a D'Youville Honors Scholar at commencement, students must:
Complete 15 hours of HON designated coursework along with an Honors portfolio
Students joining the program late or leaving it early may apply for recognition as a D'Youville Honors Associate
Recognition as an Honors Associate requires completion of at least 9 hours of Honors designated coursework
Students must maintain a cumulative GPA of 3.2 in all coursework to remain in good standing in the program
Honors includes many extracurricular activities and experiences, including speakers, theater events, museums, and special dinners
Coursework
PHI/RS 103 HON — Ethic: Religious and Philosophical Perspectives (Fall/Year One)
E 189 HON — Topics in Critical Inquiry (Fall/Year One)
HIS/ENG 112 HON — Humanities Seminar (Spring/Year One)
GE 2XX HON (Fall/Year Two)
GE 3XX HON (Spring/Year Two)
Benefits of the Program
The Honors Program offers participants the opportunity to learn and grow alongside other highly-motivated and passionate students. Organized into cohorts, students join a fun and supportive learning community, forging what will hopefully be lifelong bonds.
Priority registration
Tickets to The Kavinoky Theater
Tickets to Just Buffalo Writing Center's Babel series
Honors dinner
Rewarding and enriching community service projects
$2000 scholarship distributed over 4 semesters
And more!
Image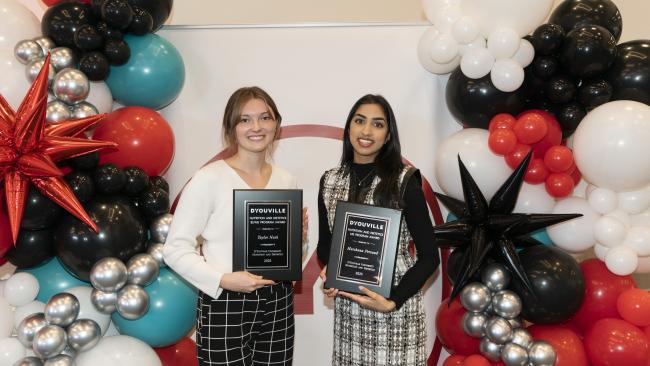 Admission to the Program
The Honors Program is open to both incoming and continuing students in any major at D'Youville. The application is competitive, with strong applications showing evidence of internal motivation, potential for growth, and commitment to critical thinking and creative problem-solving. 
Contact
Students interested in learning more about the D'Youville Honors Program should contact:
Dr. Brandon Absher
Director of the Honors Program and Associate Professor of Philosophy 
absherb@dyc.edu
Office: School of Arts, Science, and Education Building, Room 251
Before starting your application, please be sure to have your information, contact information for your two references, and your two essays available. 
Essay Topics (250-500 words, each):
Question 1: Often how we see things depends on where we're standing. As ancient Greek Heraclitus enigmatically expressed the point: "The way up and the way down are one in the same." Describe a time when you experienced a shift of perspective. What changed? What stayed the same?
Question 2: In recent years, Bob Dylan has won a Nobel Prize for literature and Kendrick Lamar has been awarded a Pulitzer Prize. Popular music is being recognized for the power of its poetry. Choose a lyric from your favorite song and explain its significance to you. What about the song moves you? How does your chosen lyric fit into the whole?‌  
Deadline to Apply: TBA